Here is a small selection of our commercial jobs and projects. We work with many top-flight event florists for winter weddings and house decoration, and several visual merchandising companies for high-street Christmas window displays. Our customers also include staff editors at British Vogue and other well-known professionals in the interiors, design and fashion industries.
BBC Drama A Christmas Carol 2019
During the early summer of 2019 we provided 25 fresh wreaths and 80 dead wreaths for the 'past' scenes of BBC film, A Christmas Carol. This will be screened during Christmas week. You can watch the trailer here
Debenhams TV commercial 2012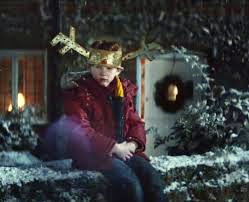 Wreaths provided for the Debenhams 2012 Christmas TV commercial, Christmas Made Fabulous.
You can see it here.
Links of London Christmas 2013, 2014, 2015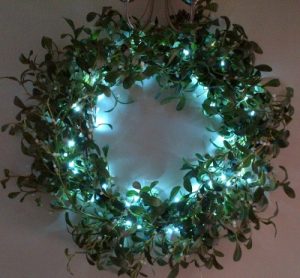 As part of our visual merchandising work we made artificial mistletoe wreaths with lights for international jeweller Links of London in 2013, giant artificial fir wreaths in 2014 and decorated willow wreaths in 2015. These were for stores throughout the UK and overseas including New York, Hong Kong and Shanghai.
Fiskens 2009 – present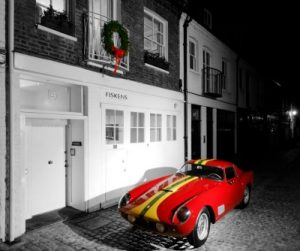 3 ft traditional fir wreath for Fiskens' classic cars, Queens Gate Place News, SW7.
Kirstie's Homemade Christmas 2009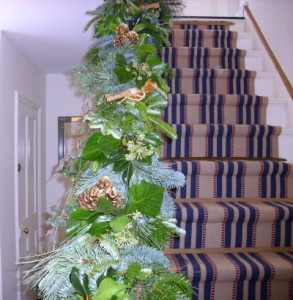 In 2009 we were asked by Channel 4 to feature in the series Kirstie's Homemade Christmas. We had tremendous fun filming this at Kirsties's home Meadowgate in North Devon and had the longest airtime of all the contributors. After a hard 3 days filming the production crew cooked all the contributors a Christmas dinner for Kirstie's party! We taught Kirstie how to make a wreath, and we were commissioned to make stunning garlands for the bannister and mantlepieces.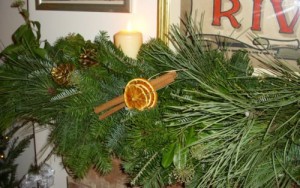 Trinity House Paintings 2012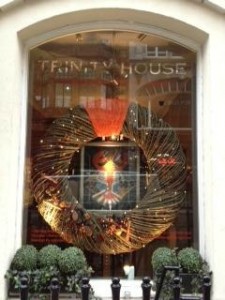 5 ft diameter willow wreath, decorated with burnt orange raffia, berries and cones. Trinity House Paintings is an international art dealer in Maddox Street, Mayfair W1.
Catherine Walker 2009 +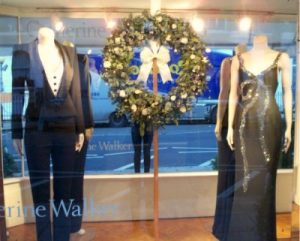 In 2009 we were commissioned to make a 3ft fir wreath for the Chelsea designer; in 2010 we made an elegant fraser fir and eucalyptus wreath with silver ivy and white roses. Catherine Walker is at Sydney Street SW3.
 Hyde Park Gardens 2011 – present
Since 2011 we have annually made 12 wreaths for the houses in the Mayfair garden square, plus a bespoke pair of wreaths for the entrance gates and garlands for the garden railings. Hyde Park Gardens is at Mayfair W2.
Purple Ski 2010-present
Knight Frank 2010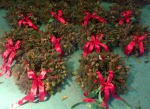 We made wreaths with liveried red and green ribbons for Knight Frank's serviced lettings in Belgravia SW1.
Commercial premises Glasgow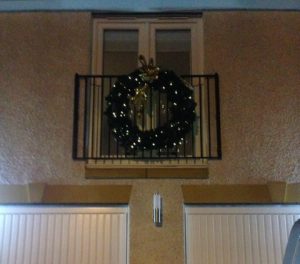 4ft artificial wreath with lights and ribbon for commercial premises in Glasgow
Rudding Estate, North Yorkshire 2009 – present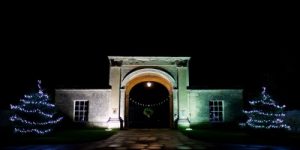 3ft fresh wreath annually for Rudding Estate entrance gates.
Willow wreaths for Leeds spa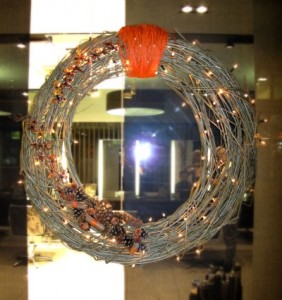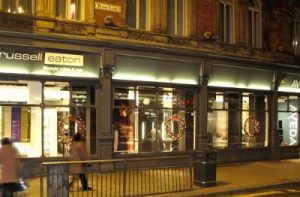 We made five willow wreaths for a spa in Leeds city centre.
Hire wreath Leicester Square 2016
Giant 3ft 6″ artificial fir wreath with baubles, poinsettia flowers and mains lights for the Leicester Square Angus Steakhouse.